---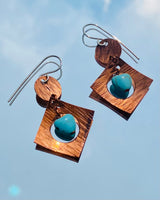 These Copper and Magnesite Hearts earrings offer a unique, handcrafted way to accessorize. The textured copper provides durability and a unique visual, while the turquoise magnesite hearts lend an exotic, colorful touch. Show off your unique style with these eye-catching earrings.
Magnesite is found in veins and as an alteration product of rocks high in magnesium, such as serpentinite and ultramafic rocks. Reports exist of turquoise magnesite being beneficial for creative visualization and imagination.
Ear wires are handmade from 14k rose gold wire that is filled with sterling; and can be exchanged for sterling silver or titanium upon request.