---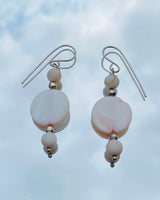 These earrings feature baby pink mother of pearl disks accented by sterling beads and smaller mother of pearl pieces.  
Mother of pearl is the common name for a blend of minerals that are secreted by oysters and other mollusks and deposited inside their shells, coating and protecting them from parasites and foreign objects. It is a stress relieving stone; relaxing, soothing and calming to the emotions.
Ear wires are handmade from sterling silver, and can be exchanged for stainless steel or titanium upon request.