---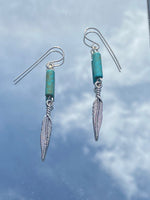 Magnesite Feathers earrings feature magnesite beads with feather charms for a unique look. The soothing color of the stones combined with the lightweight charm make for a refined and elegant finish. Crafted with care and attention to detail, these earrings are perfect for any outfit.
Magnesite is found in veins and as an alteration product of rocks high in magnesium, such as serpentinite and ultramafic rocks. Reports exist of turquoise magnesite being beneficial for creative visualization and imagination.
Earwires are handmade from sterling silver, and may be exchanged for surgical steel or titanium upon request.